Biasi B40 Series Boilers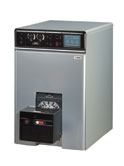 You owe it to yourself to warm up to our BIASI boiler systems.
Our economical and highly efficient 3-pass design offers the flexibility of using
either an oil or gas burner. Our unique GG20 cast-iron block, with its 72 PSI rating
and easy-access swing door, is unsurpassed in durability and efficiency,
providing years of trouble-free operation. There are 7 models ranging from
265 to 658 MBH, which are well-suited for commercial or multi-unit buildings.
Our systems tested to Hydronics Institute Standards. BIASI's foundry is ASME certified.


Boiler Model #

Number
of
Sections

Heating
Capacity

Input
Oil

Input
Gas

Net Output
(MBH)

Efficiency (%)

Water Content
(Gals.)

Length
(L) (Inches)

Weight
(Lbs.)

G.P.H.

MBH

B-40/6

6

265

2.20

308

230

86.0

17

34.8

902

B-40/7

7

352

2.90

406

305

86.7

20

39.5

1023

B-40/8

8

437

3.60

504

380

86.8

23

44.4

1144

B-40/9

9

524

4.30

602

456

87.0

26

49.2

1265

B-40/10

10

610

5.00

700

532

87.2

28

53.9

1386

B-40/11

11

696

5.70

798

607

87.2

31

58.8

1507

B-40/12

12

783

6.40

896

684

87.4

34

63.8

1628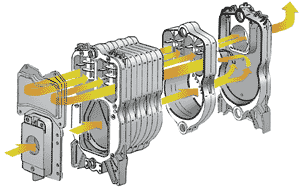 A 3-pass boiler design is the most efficient way to get the maximum amount of heat
from the boiler. The design extracts heat from three times as much interior
surface area of the boiler, compared to a single-pass, "pin-type" boiler design.

Technical Advantages
GG 20 corrosion resistant cast-iron 72 psi cast-iron construction.
Easy-access swing door. Super efficient, 3-pass flue/heat exchanger.
Low water volume. Multi-fuel capability.
Extra heavy insulation for low jacket & standby losses.
ASME and IBR listed.

The BIASI B-40's heat exchanger path is up to 15 feet, and the 3-pass design heats
more surface area per gallon burned, with 25% less heat loss than pin-type boilers.
B-40 Boiler Manual